Bulk Registration: Overview
Schools, districts, and states use bulk registration to submit student information electronically and securely before test day. For paper testing, this process produces pre-identification labels (pre-ID labels) that are applied to student answer sheets, eliminating the need for students to fill in this information on test day.
Who Uses Bulk Registration
Bulk registration is available to districts and states with contracts for SAT School Day and PSAT-related assessments as well as some participating U.S. schools. If you want to participate, contact Customer Service at 888-477-7728.
Note: Bulk registration is required for all digital testing. Schools giving digital tests don't receive pre-ID labels but do use the data to complete preadministration tasks before test day.
Benefits of Bulk Registration
Improves data accuracy: Data submitted by schools, districts, and states are often more accurate and useful.
Reduces billing discrepancies: Contract billing is based on grade level. Using organization-submitted data eliminates the issues caused by students bubbling in the wrong grade or not bubbling in any grade.
Saves time on test day: Bulk registration reduces the time students spend filling out registration information on test day, allowing them to focus on the test.
How Bulk Registration Works
You'll use the bulk registration tool to upload a file with your student information. After your file is submitted and processed, we'll mail pre-ID labels to schools giving tests on paper. For schools giving digital tests, student information will be available in the digital testing platform.
Bulk registration doesn't replace test ordering. SAT School Day and PSAT-related assessments must be ordered on the test ordering site.
Bulk Registration Labels (Paper Testing Only)
The date your pre-ID labels arrive depends on when you submit your data. View the bulk registration timeline to learn more.
Here's what a typical pre-ID label looks like. If you are testing under a state contract, your pre-ID label may look a little different.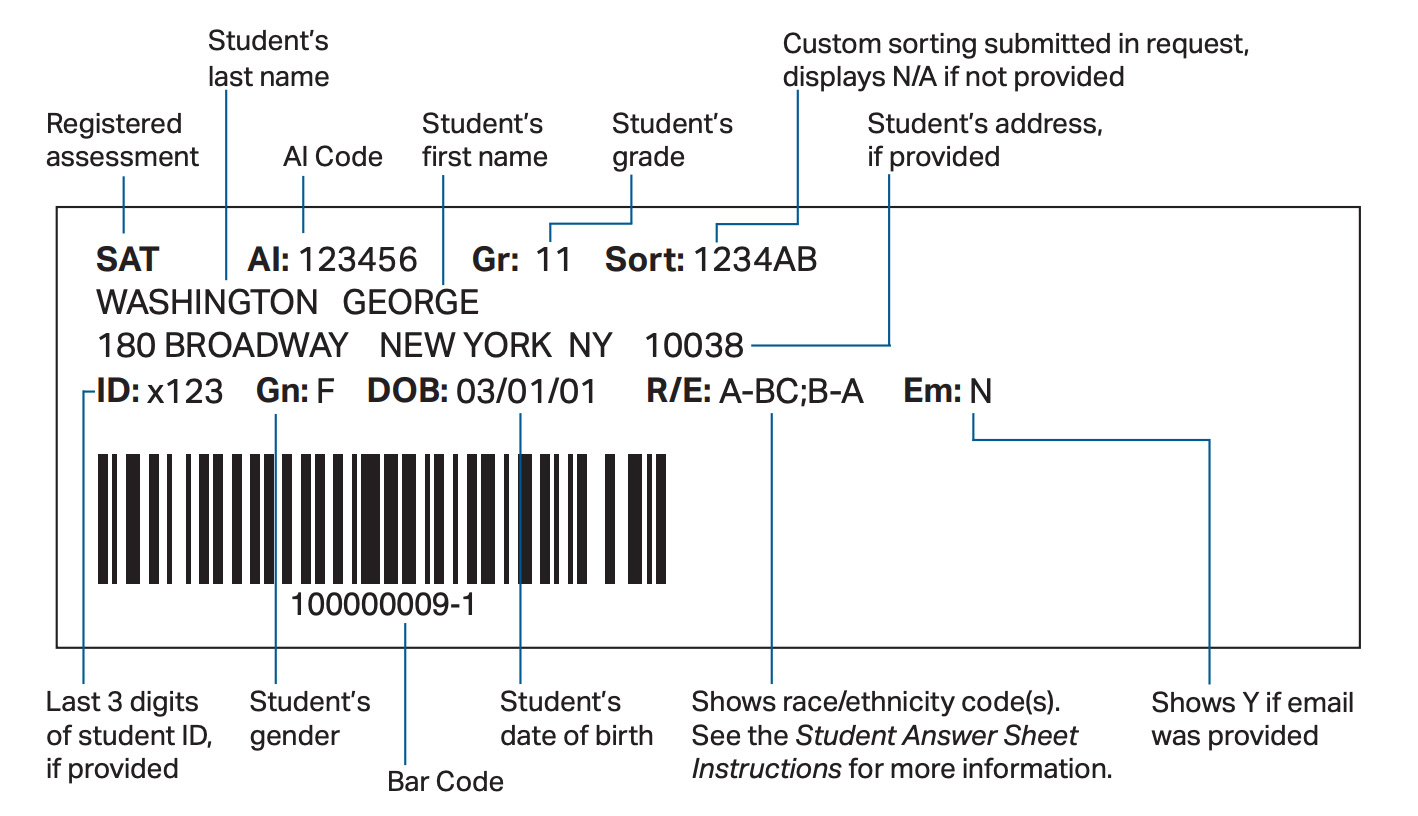 Resources
College Board Test Ordering System
Order test materials for PSAT/NMSQT®, PSAT™ 10, and PSAT™ 8/9, and SAT School Day, manage your orders, and track your shipments of test materials and score reports.
Go to College Board Test Ordering System
Bulk Registration Timelines
Get dates and deadlines for submitting bulk registration files for SAT School Day and PSAT-related assessments.